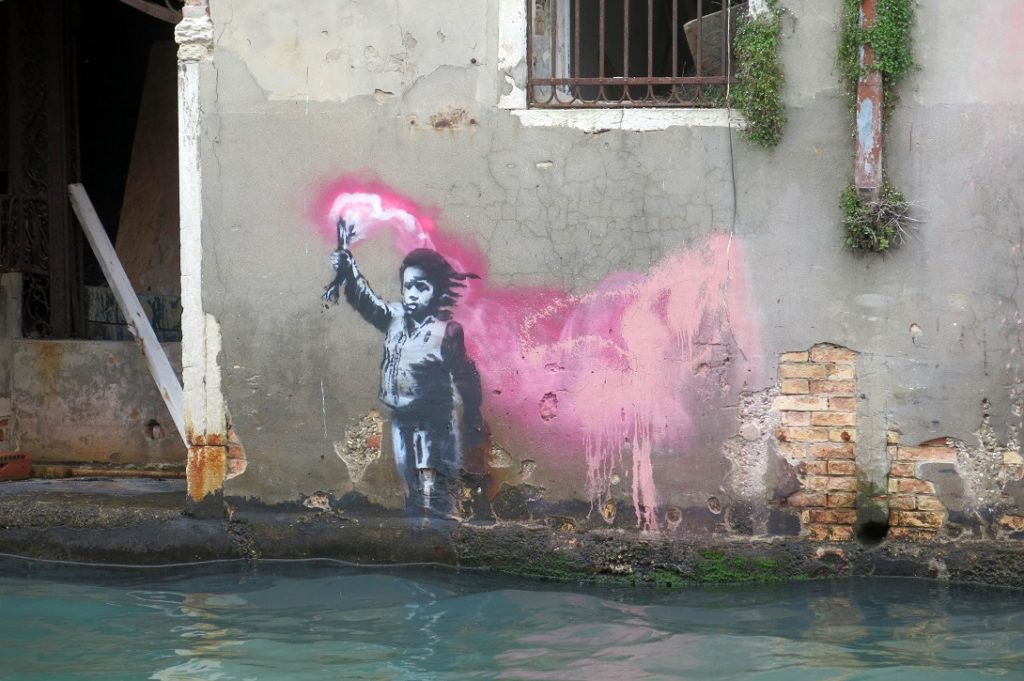 The most controversial work of the Biennale this year is out of the Biennale.
[Versione Italiana dopo l'articolo in Inglese]
The "Biennale di Venezia", a cult event for every art lover and not, from year to year full of interesting content, represents a must event in the global art world. Generally, the best and most captivating work is sought, but this year has been the stage of a particular and extraordinary artistic performance.
During the night, a video is posted on the official profile of Banksy – @banksy – one of the greatest exponents of street art in the world with an identity still shrouded in anonymity.

A guy in the Piazza San Marco area accommodates his work representing a cruise ship on the composition of paintings, the work entitled "Venice in Oil" immediately affects passers-by accustomed to the famous rowing gondolas of the lagoon city. Someone in the video even says that it's the best artwork in the Biennale.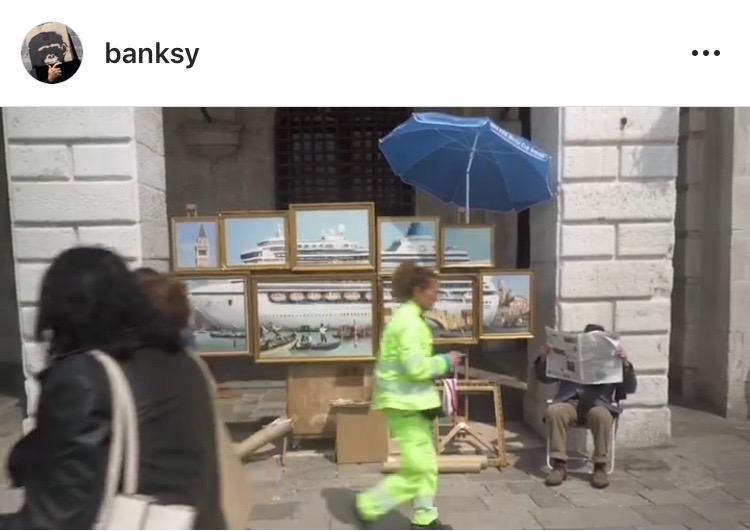 Suddenly the local police agents intervene, requesting the authorizations needed for the exhibition. The guy, not being in possession of it, is invited to clear the area and walk away.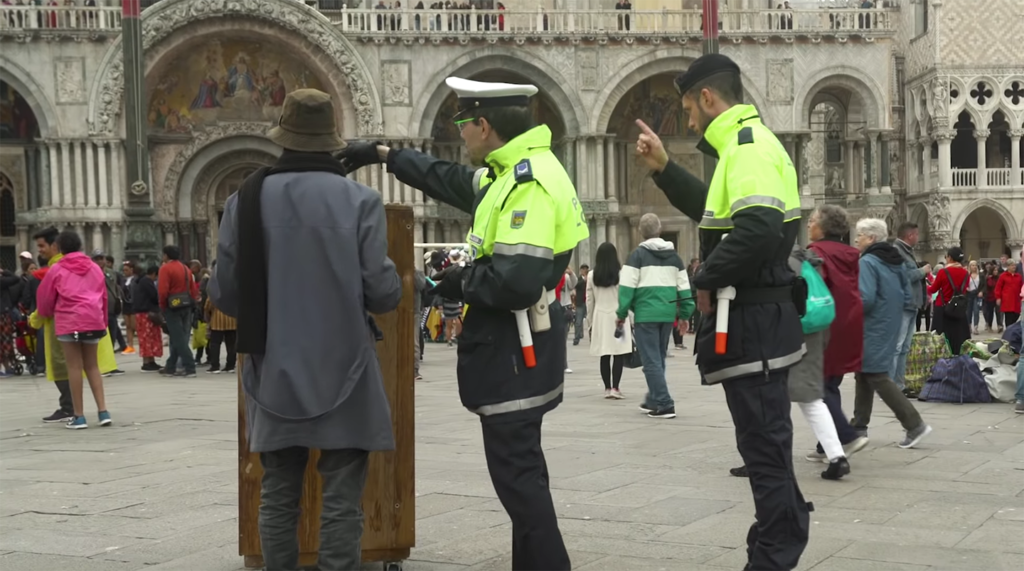 That guy was probably Banksy (!), his works have always been the vehicle of a cultural, satirical but also political message. But this is not the discussed work that became viral. This is not a surprise.

Presumably, between Thursday and Friday in the heart of the Biennale's pre-opening week, the British artist created what he quietly but powerfully would have talked more about than any other artistic event.
A wall spray stencil in one of the facades of a historic building in the heart of the city near Santa Margherita, is clearly visible passing the San Pantalon bridge that crosses the Ca 'Foscari river, a canal in the Dorsoduro district.

The work depicts a child exposed to an impetuous wind wearing a life jacket and holding a luminous fuchsia-colored candle, usually used as a signaling device for sea rescue. The connection to the problem of immigration is powerful.

The little shipwrecked person is depicted with his feet immersed in water subject to the danger of high tide which could endanger his life, a symptom of a context of general crisis that probably also affects contemporary art.

The torch held in the left hand brings to our mind the Statue of Liberty on the Hudson River in Liberty Island in the United States of America, symbolizing the eternal fire of freedom, a freedom that unfortunately the child is deprived of.
Thus the spotlight on topics of current affairs and social denunciation are too often underestimated by politics for the most disparate reasons.

This is also demonstrated by the artist's lack of invitation to the Venice Biennale, as he himself states, while extolling the importance of the event, "Despite being the largest and most prestigious art event in the world, for some reason I've never been invited".

Needless to say, the work in the historic building in question, is for sale in the inventory of the famous real estate brokerage firm Engel & Volkers, and after this event has already tremendously raised the value of the property to a record number now nicknamed "The Banksy Estate" .

But beyond the business, art has once again proved to be a vehicle of exceptional global communication and the artist takes on an increasingly central role in a world where culture and ethics are unfortunately increasingly distant.

If this artwork impressed you, share with us your opinion!
Banksy incanta il mondo dall'Italia.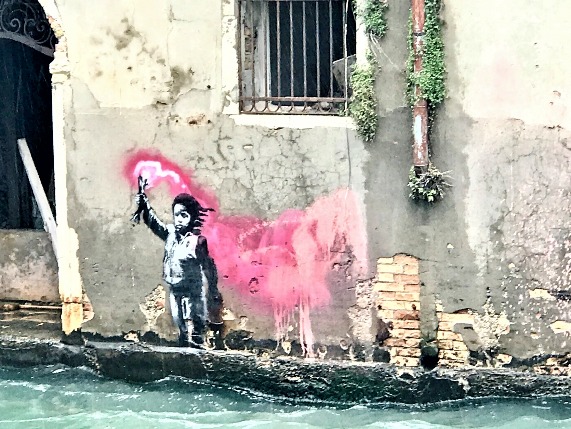 L'opera mediaticamente più discussa della Biennale quest'anno è fuori dall'esposizione.
Biennale di Venezia, un evento cult per ogni appassionato di arte e non, di anno in anno colmo di contenuti interessanti, un'occasione dove generalmente si è alla ricerca dell'opera migliore e più accattivante, ma che quest'anno è stata il palcoscenico di una particolare, ma allo stesso tempo straordinaria, performance artistica.

Nella notte, un video viene postato sul profilo ufficiale di Banksy – @banksy -, uno dei più grandi esponenti della street art al mondo dall'identità ancora avvolta nell'anonimato.

Un tizio in zona Piazza San Marco accomoda la sua opera che raffigura una nave da crociera su una composizione di quadri, l'opera dal titolo "Venice in Oil" colpisce sin da subito i passanti abituati alle famose gondole a remi della città lagunare. Qualcuno, senza sapere di chi si tratta, dice persino che è la più bella opera della Biennale.

Ad un tratto si presenta la polizia locale che richiede le autorizzazioni richieste per l'esibizione. Non essendone in possesso, il tizio viene invitato a sgombrare l'area ed allontanarsi.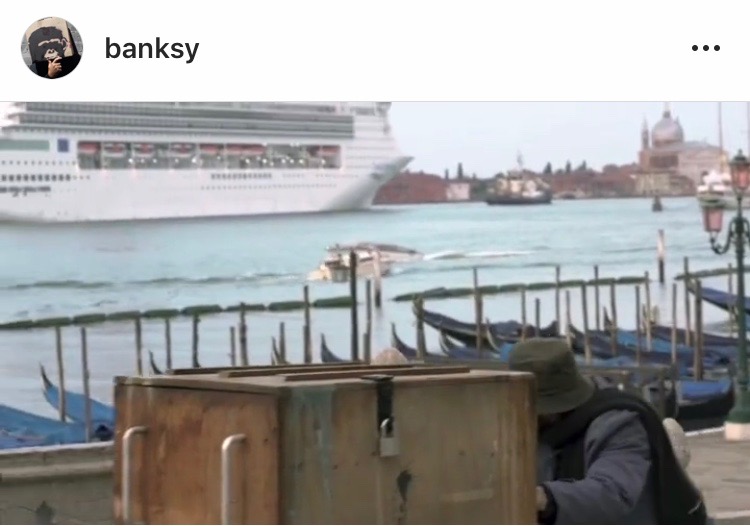 Si trattava probabilmente di Banksy (!), le sue opere sono sempre stato veicolo di un messaggio culturale, satirico ma anche politico. Ma non è questa l'opera che poi diventerà virale. E trattandosi di lui, questo non meraviglia.

Presumibilmente tra giovedì e venerdì nel cuore della settimana del pre-opening della Biennale, l'artista britannico creava ciò che sommessamente ma prepotentemente avrebbe fatto parlare più di ogni altro evento artistico.
Uno stencil da muro a spray in una delle facciate di un palazzo storico nel cuore della città nei pressi di Santa Margherita, è ben visibile superando il ponte di San Pantalon che incrocia il fiume di Ca' Foscari, un canale nel sestiere di Dorsoduro.

L'opera raffigura un bambino esposto ad un vento impetuoso con indosso un giubbotto di salvataggio ed in mano un candelotto luminoso di color fucsia utilizzato solitamente come segnalatore per il soccorso in mare. E' evidente l'accostamento al problema dell'immigrazione.

Il piccolo naufrago viene raffigurato con i piedi immersi nell'acqua soggetto al pericolo dell'alta marea che potrebbe mettere a repentaglio la sua vita, sintomo di un contesto di crisi generale di cui probabilmente anche l'arte contemporanea è affetta.

La fiaccola impugnata nella mano sinistra porta alla mente la Statua della Libertà sul fiume Hudson in Liberty Island negli Stati Uniti d'America, simboleggia il fuoco eterno della libertà, una libertà di cui purtroppo il bambino è privato.
Si accendono, è il caso di dirlo, in tal modo i riflettori su temi di attualità e denuncia sociale troppe volte sottovalutati dalla politica per le più disparate motivazioni.

Ciò lo dimostra anche il mancato invito dell'artista alla Biennale di Venezia, come lui stesso dichiara, pur decantando l'importanza dell'evento, "Despite being the largest and most prestigious art event in the world, for some reason I've never been invited".

Inutile dire che l'opera presente nel palazzo storico in questione, presente nell'inventario ed in vendita presso la famosa società di intermediazione immobiliare Engel & Volkers, abbia fatto lievitare il valore dell'immobile ad una cifra record ormai soprannominato "The Banksy Estate".

Ma al di là del business, l'arte si è rivelata ancora una volta veicolo di eccezionale comunicazione e l'artista assume un ruolo sempre più centrale in un mondo dove la cultura e l'etica sono purtroppo sempre più lontani.

Se l'opera ti ha colpito, condividi le tue impressioni!