Investments – Real Estate – Foreclosed Properties
Italian English Speaking Lawyers – Attorneys at Law
Govoni Law is a preeminent Boutique Law Firm, working in the whole Italian Territory with a focus on International Clients, offering specializing consulting in Italian real estate purchase and investments, immigration, inheritance, and contracts and in general legal assistance to foreigners with all their legal needs under Italian law.
The Govoni brothers both lead the Investment team also regarding Digital & Innovation initiatives, being responsible for developing advisory services for R&D and innovation management, as well as for digital startups. They research venture capital fund investing in digital startups and have worked in R&D for technology in Italy, UK, and the United States.
Why should you hire us?
We are Trusted Attorneys enlisted as suggested Italian English Speaking Lawyers in Italy by many Institutions such as:
We like to imagine our legal services as "Tailormade" Consulting to be sewn on the Client needs, composing the desired Consulting "Suit". In this way, we can offer always a "Bespoke" Legal Consulting according to each Client's needs.
We do our best to use a down-to-earth approach with our Clients, being the middleman between them and the Italian parties in a complex bureaucracy and an ever changing legislation landscape.
Be sure to hire Independent Lawyers that represent only your interest in every single phase of your legal needs. It's crucial to hire an English-speaking Italian Lawyer. 
We offer trustworthy independent legal services to International and foreign Clients.
What we do
International Italian professional lawyers assisting clients since 2011 in the following areas:
Real Estate and Immigration (Due Diligence and Title Search, Court Auctions Investments, Foreclosed Property Investments, Unclaimed Properties, Property by Inheritance, Public Properties Sales, Elective Residency Visa, Retire in Italy);
Inheritance and Wealth (Advising on draft of wills, Property by Inheritance, Estate and Wealth Planning);
Startup, Business Consulting Growth (especially for startups and SMEs matching them with potential international investors).
Who we are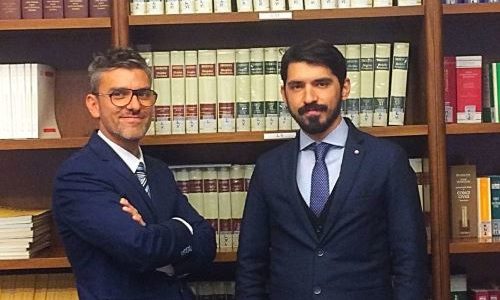 From left to right: Davide Govoni and Emmanuele Govoni
Avv. Davide Govoni – Attorney
Co-Founder of Govonilaw since 2011.
Previously, he worked in major local law firms developing professional skills in investments, startup and business consulting growth, and real estate law.
He offers legal services in real estate (property transactions both in the regular and distressed markets), early stage (seed funding) investments, and contracts.
He has also worked with an Italian Public Notary.
He was Professor Assistant at the University of Sassari, Chair of Administrative Law.
He has attended numerous Seminars, examining the legal aspects related to real estate companies and related investments, taxation. He researched corporate files, reports, memo, SEC filings, doing legal due diligence activities.
Avv. Emmanuele Govoni – Attorney
Co-Founder of Govonilaw since 2011.
He has worked extensively in several real estate transactions following them successfully in any step of the process, both in the ordinary market and the foreclosure property and court auctions investments.
He also advise clients on the related property tax law.
He has worked with an Italian Public Notary.
Ph.D. in Administrative Law, University of Sassari, School of Economy and Law regarding investments, Antitrust and competiton law in the EU market.
Assisting clients becoming successful entrepreneurs and planning their success and growth of their business, especially for early stage funding.
He has researched thousands of private and listed companies, developing an understanding of the business and investing mechanics and models in an ever changing and hectic market.
We have matured over the years an important experience in the field of distressed properties connected to Court Auctions. In particular, we assist the client in the purchase process highlighting the most interesting properties, that often can be a real bargain.
A stable economy and political situation;
Strong Dollar Economy the US $ has gained more than 6% against the Euro;
US low interests the FED cut interest rates, it's 1st reduction since 2008;
Limited Supply is not easy to find the right property in the right place;
Rental Income Source. have a vacation house and earn a stable income;
Underestimated Properties house prices have not yet recovered;
Take advantage of international asset protection These are harder to get to;
Court Auctions is an alternative way, but it is recommended to focus on properties priced at least 400,000 €.
Legal Translations
Certified and Sworn Legal Translations in Italy
Certified Translations are crucial for several legal and administrative procedures in Italy, such as Immigration applications and property purchases.
We provide legal, certified translations and sworn translations, thanks to our Professional and Certified Expert Translator. We assist Clients in any document translations mainly juridical, historical, international real estate acts, notarial deeds, also with asseverations in Italian Court.
Contact Form
Where we are
ALGHERO, Via Gilbert Ferret, 86, Sardinia, Italy
LONDON, Office 23171, POBox 6945, W1A6US, UK
Email: contact@govonilaw.com
Whatsapp (chat only): +39 3921376728
Viber (chat only): +39 3921376728
Phone: +39 0796047210
https://www.facebook.com/govonilaw/
Facebook Messenger

->

http://m.me/govonilaw